We Make History
Proudly Presents
The American Heritage Festival

The American Heritage Festival is a grand scale, highly interactive educational presentation of diverse civilian and military aspects of historic American life from Colonial Days through modern times as portrayed by a large and experienced cast of historical interpreters assembled from around the country. We are the largest and most diverse educational living history event in the Western United States, with something of interest for everyone. We also feature Arizona's original and largest display and battle reenactment of the American Revolution. Come, learn and be inspired!

Included are reenactments, dramatic portrayals of both famous and everyday men, women, children, musicians, artisans, craftsmen, singers, colonists, pioneers, mountain men, soldiers and more ranging from Colonial times, the American Revolution and the Founding Fathers through Frontier and Pioneer days, the Civil War, the Old West and on into the 20th century, the World Wars and the Vietnam era. An 18th century style church service in the fields based on the "Great Awakening", speeches by famous Americans of the past, live historic music, an historic fashion show and of course battle reenactments are just a few of the many special features. Historic men, women and children are portrayed in diverse roles with something of interest to all. Historic merchants offer a unique shopping experience.
Presented each November by We Make History and held at Schnepf Farms of Queen Creek, Arizona, the American Heritage Festival is by far the largest living history event to take place in The Southwest. Don't miss out on this unique, creative, interactive and family friendly educational opportunity for all ages.
Our mission to educate, inspire, honour and respect continues....
Our 15th annual American Heritage Festival will be held
November 16th-18th, 2017 "Rain or Shine!"
2017 will be an exciting year as our presentation of the American Revolution continues to expand. We are growing, refining and adding new experiences in our quest for creative, interactive, inspirational education!
To receive event updates and information.... and that we may better serve you... please find the appropriate category below and contact us.
November 16th and 17th are SCHOOL DAYS and are ONLY open for organized Public School, Private School, Charter School and Homeschool groups of 20 or more who make advance reservations.
PUBLIC, VETERAN & HOMESCHOOL FAMILY DAY will be Saturday, November 18th from 10AM-4:30PM and will include battle reenactments of the American Revolution and Civil War, live historic music, an historic fashion show, an historic church service, historic crafts, historic medicine, and diverse educational displays ranging from Colonial times through the 20th century! Arrive early to enjoy the full experience! Food, beverages and souvenirs will be available on site. Passes will be available at the event for $15 each. Ages 3 and under are FREE and do not need a pass.
For questions not covered on the pages of this site it is best to contact us at events@wemakehistory.com but you may also call our info line at 480-777-1776. To receive updates, email us, let us know how you heard about us, where you are located and your area(s) of interest.
PLEASE NOTE: For everyone's safety and security as well as the quality of our presentation, no adults may enter the event dressed in historic style attire other than our pre-registered reenactors. If you are a REENACTOR email us at events@wemakehistory.com, tell us about your portrayal, how you heard about us and how you would like to serve. We'll send you updates and links to participant info including a registration form. Reenactors must be registered in advance in order to participate. For good organization, security and everyone's safety we do not accept "walk-ons."
Make History with us! With 501(c)3 status we are able to accept charitable donations from our friends by check or credit card.
Please send checks to We Make History, P.O. Box 1776, Queen Creek, AZ 85142 or email for information on how to contribute directly by credit card.
"The American Heritage Festival is an amazing learning opportunity for all students! Every year I bring my students to this field trip so that they can put real life images and interactions together with what we have discovered in the classroom. The characters at the festival share historical experiences with the students that make the history they have learned significant and meaningful. We Make History has been a fantastic group to work with and the field trips are always worth the effort. American Heritage Festival Day is my favorite day of the year!"
Sincerely, Mrs. Martino (7th Grade Social Studies Teacher, Phoenix, AZ)
"We found the experience of the American Heritage Festival this weekend past to be one of great triumph! We thoroughly enjoyed exploring our American History from it's most early infant days all the way through to the Vietnam War. We reward the efforts of your group with our praise and high regard. I was most moved, as I have been before, and it has rekindled a desire for further acquaintance and acceptance to hopefully become part of a group such as yours. We hope to continue with more correspondence and to attend future events! Well done!!!" Sincerely, Miss Rebecca P.
"This is the highlight of our year! Thank you for this wonderful event." Gabe & Jane

Valuable Links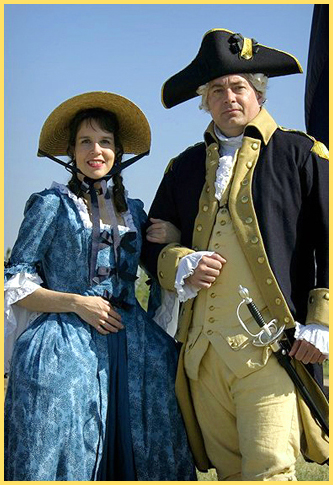 A Few Comments from Happy Teachers (We have many more!)
To fellow teachers,
Last year my class and I attended the American Heritage Festival and I am so excited to attend again this fall! As a fifth grade teacher, I expected the event to cover the history basics my students would learn throughout the year. I could never have anticipated the positive effect this event had on my fifth graders! The students found themselves completely emerged in America's history, from pre-Revolution to World War II. The learning that took place that day could never have been duplicated in my classroom. History was indeed brought to life that day for my students, and it stayed with them throughout the year. I was able to refer back to the event during lessons on the Revolution, westward movement, Civil War, and in comparing the past to the present. When wrapping up the school year, I asked the class to list some of their favorite events. Without fail, this festival appeared on every student's list! I have advised all of my coworkers that this is a must-see event for all students, and I hope that many more teachers allow their students to step into the past. I can't thank "We Make History" enough for making it possible for history to come to life for my students through the American Heritage Festival! It's something all of us should experience.
Sincerely,
Amy
Gilbert, AZ
---------------------------------------------------------------------------
My classes have attended the American Heritage Festival for the past two years. The experience is real and authentic. The actors have a command of historical knowledge and portray our American heroes with enthusiasm. Every person on site is wonderful and patient with children too. As a fifth grade teacher with state social studies standards ranging from the Colonial Times and American Revolution, to Westward Expansion and the Civil War, the American Heritage Festival helps bring classroom material to life.
I never miss the American Heritage Festival. It is the best dollar and educational value in town!
Jordan D.
5th Grade Teacher
Scottsdale
---------------------------------------------------------------------------------------------------
Dear We Make History,
I would like to take a moment to express my delight at this year's American Heritage Festival. I have now attended the festival for four years running and have always thought the festival an outstanding experience, but this year the festival was simply amazing! The small touches such as groups being met at the gate by historical figures and then introduced to General Washington prior to exploring the festival were extremely effective in gaining the interest of my students. The living historians did an excellent job of drawing in the pupils and then involving them with hands on activities. The addition of the Civil War "field hospital" where amputations were demonstrated was a huge success - especially with the boys.
Your devotion and efforts towards teaching history are not only greatly appreciated; they are highly successful.
----------------------------------------------------------------------

Hats off to the American Heritage Festival and everyone who worked so hard to put it together!!!

I took 65 students from two different schools to the American Heritage Festival. I heard nothing but terrific comments from students and parents upon our return to school.

We researched the Revolutionary War, the Civil War and many great Americans before we went to the Festival so they had an idea of what they were going to see. It was much more than they expected and helped to make this part of American history more meaningful
to them.

The week after our wonderful adventure at the AHF we put our research and our experiences together to write about what we had learned.

George and Martha Washington and three lovely young ladies were gracious enough to visit the students and their parents at our school. What a wonderful finale to our adventure.
We hope to do it again next year!

I can't thank you enough for making history come alive for my students!

Pam

Gifted Teacher

Queen Creek, Arizona

---------------------------------------------------

I wanted to thank you all for a wonderful experience at the school day for the American Heritage Festival. I brought my fifth grade class, along with four others, and I can't tell you how valuable the experience was for all of us. The students walked away with a greater appreciation for the difficulties faced by our forefathers. The reenactors they encountered took the time to make careful explanations, and were courteous and friendly at all times. After only a week has passed, I have already used the event several times to illustrate our history lessons. You have provided an experience which brings history to life, and the students will not forget it. Thank you for all you do!
Sincerely,

Mrs. C.

5th Grade Teacher Gilbert, Arizona

-------------------------------------------------------------

Dear We Make History,

I am pleased to say that our students and parent chaperones loved the festival. I and my fellow teachers found the event highly educational and we were able to meet many state standards.

Our school will certainly plan to attend next year.

Jody
2nd Grade Teacher
Mesa, Arizona

---------------------------------------------------------------------------
Dear American Heritage Festival,
If acceptable, I would like to have our students dress properly for this field trip as we did last year. I believe having them research roles, attire, etc. along with choosing their particular era truly enhanced their experience. Every single one of my students thoroughly enjoyed this event and took back vast amounts of knowledge along with a greater sense of respect for the history we are teaching in the fifth grade curriculum. Numerous items learned at the American Heritage Festival were brought up and pointed out by the students as we journeyed through time all the way through the Civil War Era. It was so exciting to see and hear the students reinforcing their own learning with details of various elements learned from this lone field trip throughout the entire year of Social Studies learning. Truly wonderful!

Thank you for your support and continued focus on providing a way for children (and adults) to 'live, learn, and love' our American history.

Sincerely,

Connie L.
5th Grade Teacher
Tucson, AZ
---------------------------------------------------------
To whom it may concern:
I attended the festival for the first time last year. I found the festival to be well-organized and of high academic value and interest to my students. My students were able to observe firsthand the authentic recreation of the clothing, weapons, and household items from many different time periods as well as the language and social customs. In addition, my students were thrilled to "meet" such famous Americans as George Washington and Abraham Lincoln.
As a teacher, I was thrilled that the festival met many required state standards regarding history, writing, and drama and I was able to implement our trip to the festival into many of my classroom lessons.
I truly believe that history is best taught through submersion and hands on activities, and in this the American Heritage Festival succeeds in all aspects. My students learned more about American history in the two hours spent at the festival than I could have taught them in an entire semester.
Needless to say, my school will not only return to the festival this year, but every year as I now consider The American Heritage Festival to be one of my annual field trips.
JD
Second Form Lead Teacher
-----------------------------------------------------------------------------
Hi everyone at We Make History!
What a WONDERFUL experience!! . . .attending your American Heritage Festival on November 15th in Queen Creek, Arizona! I brought five of my junior high Humanities students and three of their Moms to your event, and none of us were disappointed. In fact, your arts and crafts demonstrations, Revolutionary and Civil War battles, encampments, and even shopping very much exceeded my expectations. I especially loved the costumes (uniforms), each one was so authentic--I thought Robert E. Lee and Abe Lincoln were actually walking toward me in the flesh! The best advertisement you could have I think, is to tell you that every one of my students wanted to stay to the very end of the event--and so we did!
I will most definitely return to next year's festival with many more of my students. It was a fabulous opportunity to learn about, enjoy and appreciate our fascinating American heritage.
Sandi
Phoenix
-------------------------------------------------------------------------------------
We LOVED attending this year's AHF. We come from Litchfield Park and our drive is a long one, but the trip is worth every minute! Our students had a scavenger hunt to complete this year, and with our chaperones' help every student completed their checklist! We all loved the interaction with every character reenactor, and we had a lot to talk about on our way back home.
Please do keep me on your list to contact, as we'll make this our 4th grade tradition!
Peace to you, and blessings for a Happy Thanksgiving!
--------------------------------------------------------------------------------------------------------
Hello,
Two of our fifth grade classes attended the American Heritage Festival for the first time this past school year 2007-2008. We had all of our students and chaperones dress the part and thoroughly enjoyed every minute of our experience. This next school year 2008-2009 all three fifth grade teachers would like to attend.
Thank you for all you do.
Sincerely,
CL
Tucson, AZ
-----------------------------------------------------------------------------------------------------------
Dear
Sir,
We appreciate your efforts with the American Heritage Festival. The students got a taste of history and enjoyed their time there. Thank you!
Mrs. Jill C.
Glendale, Arizona
--------------------------------------------------------------------
The students had a wonderful time!
Nan V.
Montessori School